Wandering the Map with Our Soulmate-Family
Have Kids. Will (Attempt to) Travel.
Ask any parent who is lucky enough to find that perfect-fit vacation family—one with kids that line up in age with their own and, by some rare alignment of the stars, also get along famously with their entire clan (including grown-up family members)—and they will tell you that this is a true game changer. Like winning the lottery except, in this case, your bankroll is the previously-untouchable idea that you may actually get to do some fun adulting on your own vacations, between now and the day your youngest child moves out of the house.
Astoundingly, my own family is a member of this kids-in-tow, wanderlust tribe, which is an honor we take advantage of just about every chance we get. Several years ago, right around the time my close childhood friend M, and her husband, were finishing up their post-med school residencies and fellowships, she and I realized that her kids were almost exactly the same ages as my stepsons. When they were introduced and all our kids completely adored one another, M and I wasted no time hatching a plan.
Riding the Tide
Since that ah-ha moment years ago, our families have kept up an annual vacation tradition. And, what began as a free built-in-babysitter travel strategy, quickly revealed itself to be so much more.
Back when we began this co-vacationing tradition, we lived on opposite sides of the U.S., and today is no different. To make this plan work, we take turns every year for which family has to book flights for that annual co-vacation.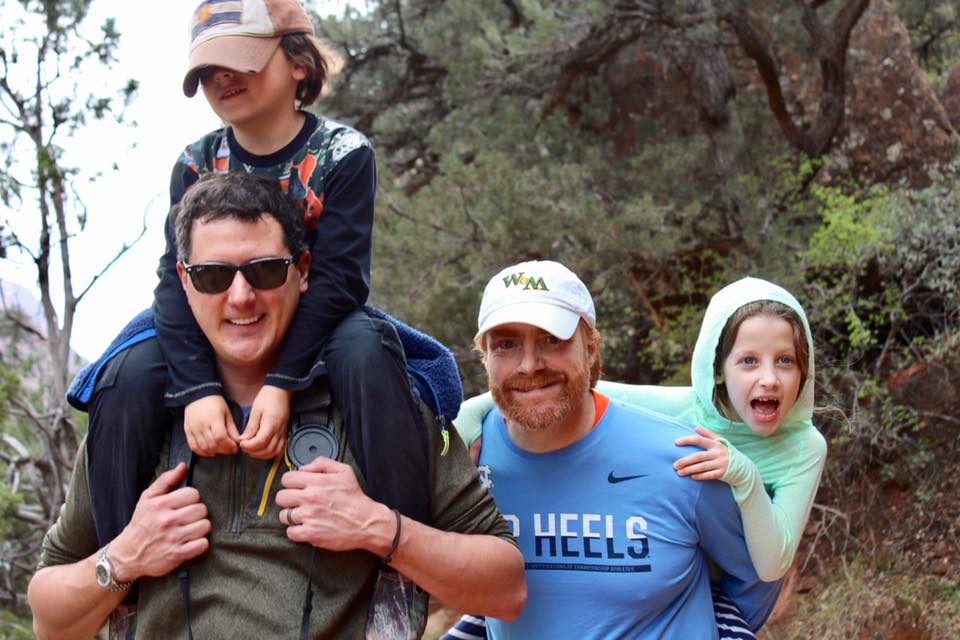 For example, last year M's family flew out West (our neck of the woods) to share a 100yr-old cabin with us in an iconic national park for spring break. Our family made the roughly ten hour journey in our SUV.
This summer, we flew to east to spend a week with them in a beach house on the Outer Banks of North Carolina. Our boys have spent their lives in a really lovely, but landlocked, state and watching them transform from wary, first-day toe dippers into confident body surfers, riding waves with their east-coaster travel companions, was magnificent. A three-dimensional, salt water-soaked, skin-and-bones, real life example of travel's power to transform our souls.
If we let it.
Wanderlust's Way of Bringing You Back Home
There is some kind of magic that keeps old friends close, despite decades of physical distance, distraction, and sparse communication. I have known M longer than my own youngest sister. M and I grew up with a close-knit group of girlfriends we've known for nearly as long as each other, and these (now) women feel as much like family as our own blood kin.
Even though we long ago scattered all across the country to after leaving our hometown, the group remains a touchstone in our lives. Across long distances, through a decade's worth of career hustle, weddings and baby showers, health scares, blindsiding divorces, and despite long stretches of time we wouldn't even speak, we have somehow remained with one another. As constant as our own shadows.
In years when we were less otherwise-committed, we would take yearly girls' trips and spend the days connecting the dots between our new lives and our original selves. I am unsure how someone survives their 20s without a tethering counsel of childhood soulmates, like I had. This coterie of peerless humans that can read one another like a book, with insight born not from familiarity but because we had played integral parts in the narrative that formed the most deeply-buried layers of ourselves. We were girls together.
Somewhere around age thirty-five, life was suddenly bursting at the seems for every one of us and our getaway weekends together waned. We missed them, but that season of life simply didn't afford the space (or vacation days) to jet off with the girls, and this lack of prioritized togetherness had an impact. During those leaner years, some of us (myself included) strayed from our better senses and toward destructive behavior and life decisions we cannot take back.
I sometimes wonder if this broken-compass season would have felt as lonely—or would happened at all—had we managed to maintain our grounding, no-bullshit annual huddle through those middling years.
Summer Magic
Today I find myself in a brand new season of life, with more peace and deeper love, greater stability and financial freedom, yet the same inflexibility of a growing family. My girlfriends are all defining this new season for themselves, colored by the places they live and by the context of their families and life purposes.
The second year we vacationed with my friend M's family, it dawned on me that this burgeoning tradition could represent a metamorphosis of our sacred girls' trips, which had been as anchored in the calendar year as Christmas for nearly all my adult life. These new multi-family trips require more planning ahead of time, but have the same grounding effect that comes from reconnecting with the wiser mirror version(s) of ourselves. Though each trip has been different, we have found that our families easily blend into groups, then drift off for one-on-one or solo time, as naturally as would members of the same family.
On this summer's trip, M and I struck out on a beach walk the first day and, without realizing it, walked nearly ten miles before we knew it. We had been so deep into our communion-conversation, we didn't notice the waning sun or that the light of our beach house had disappeared from site. I feared our families would be worried or perhaps just sitting around awkwardly, waiting for something to do. When we walked in the door, though, our husbands were happily chatting together in the kitchen making dinner and the kids were playing cards, using seashells for poker chips, on the screen porch.
The rest of that week continued blissfully on that same way. We watched as the kids interacted with each other in a new and different way than the year before. Being a year older seemed to make them more curious about each other, about knowing what their lives where like at home, who they hung out with. The older kids showed a more mature, genuine care for one another. We noticed all this in little interactions among the kids and even in a couple of adorable, broad gestures.
It is hard to explain how it feels to see your kids find such joy and companionship with the children of your very oldest friend, but it is something I could watch all day long. The day we left the beach this summer, the boys were already asking where we would be going for our 2019 co-family vacation (it's looking like Florida).
While we continue our annual multi-family pilgrimage to the next new spot to explore together, M and I have been talking with the rest of our wise women about planning a time in early 2019 to all get together. It feels long overdue and my heart swells at the idea of having all of us in one room. The vacations with M's family helped me rediscover the lifeblood that I get from being with these women, which I hope never to take for granted again.
These magnificent women are part of my fabric and, joined together, we form a bridge that integrates our past to our present. We raised each other from children and now we get to watch our children develop friendships of their own. I hope that our kids will grow up feeling as safe and supported in the world as we did, because of each other, and that they know the peace of being known and loved for exactly who they are.
I realize that M and I may have been dealt a lucky hand in the girlfriend department, but I am beginning to believe it is something we can pass down to our own kids. I certainly plan to try.
*Until next year...